Richard Batista
Headmaster
Education:
B.S. in Finance from California State University, Sacramento
Experience:
Board Member since 1995
Headmaster since 2009
Cathy Andrews
Instructional Supervisor, 6th Grade Team Teacher
Education:
B.A. Liberal Studies with English Concentration from California State University, Sacramento, Summa Cum Laude
ACSI Multiple Subject Certificate
Experience:
At CCS since 1999
Taught homeschool for 12 years
Jeff Axtell
Board Member
Jeff Axtell is the lead pastor at New Hope Christian Fellowship and has been serving there since 2008. Prior to that, he was the owner of Axtell Brothers Construction. Jeff joined the CCS Board in 2016. He and his wife Jennifer have 3 children.
Douglas Broomell
Board Member
Douglas and his family have been a part of the Cornerstone family since 2005. Douglas joined the CCS Executive Board in 2011. He obtained his law license in 1995. Douglas and his wife, Colleen, are self-employed, practicing attorneys with four children attending Cornerstone.
Johnny Flotte
Board Member
Johnny and his family moved from Southern California to Roseville in 2004. They joined the Cornerstone family in 2008 and Johnny became a board member in 2011. His three children attend Cornerstone Christian School. Johnny owns his own forklift service business. He has a God given desire and ability to fix things so it's not unusual to spot him from time to time repairing or building something on campus. Johnny loves music and playing sports, especially if his children are involved. Johnny and his wife Marty  live in Roseville and have been members of Reformation Fellowship since 2005 where Johnny serves as a Deacon.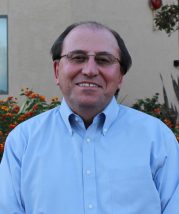 Ray Greenhouse
Chairman
Ray and his family have been a part of Cornerstone Christian School (CCS) since 1997, and he joined the CCS Executive Board in 2005. He holds a Bachelor's degree in Business Administration from California State University, Fresno, and is presently the Director over the Information Technology Customer Services and Support organization for the California State Teachers' Retirement System. He enjoys reading and sports but is mostly interested in fostering Christian leadership among Christian men, young and old. Ray and his wife Susie have four children, and reside in Rocklin.
Susie Greenhouse
School Office Manager and Bookkeeper
Experience:
Associated with CCS since 1997
Employed by CCS since 2003
David Farschman
Information Systems Manager
Education:
B.S. in Mathematics, UC Davis
M.S. in Applied Mathematics, UC Davis
Experience:
3 years Applications Developer
Business Systems Analyst, 1998 to the present
Mathematics Instructor, 2004 to the present
Information Systems Manager at CCS since 2003
Erin Winter
Preschool Director
Education:
B.A. in Theatre Arts, Minor: Child Development, California State University Sacramento
Experience:
Over 15 years working with preschool age children
At CCS since 2013
Delinda Winter
Preschool Teacher
Education:
College of the Sequoias, 1 year
Experience:
12 ECE units, Los Rios Community College
40 years working with children in church nurseries, preschools, and children's ministries
At CCS since 2017
Jessica Conklin
Admissions Director, 4th Grade Homeroom Teacher
Experience:
Associated with CCS since 2016
Worked as Children's Director at church for last 10 years
Karin Bourquin
Kindergarten Homeroom Teacher
Education:
B.S. in Child Psychology and Music from Missouri Western State College
Experience: 
Child Development Laboratory Teacher at Arizona State University 1990-2000
Behavior Specialist at Applied Behavior Consultants 2001-2003
Children Ministries Director at New Hope Christian Fellowship Church 2009-2014
Patricia Yarbrough
1st Grade Homeroom Teacher
Education:
B.A. in English, Thomas Edison State College
Experience:
4 years experience in education prior to CCS
At CCS since 2017
Tracey Elliott
1st Grade Aide, BASS Supervisor
Education:
B.A. in English/Communications from Simpson University with a Minor in Christian Studies
ACSI Certified Teacher K-8
Experience:
Taught 6 years prior to CCS
Employed by CCS since 2012
Heather Reeves
2nd Grade Homeroom Teacher
Education:
B.A. Liberal Studies with a minor in History from the Master's College
CA Multiple Subject Teaching Credential
Experience:
Taught outside CCS for 4 years
At CCS from 1994 – 1997, and 2005 – present
Cindy Garrisi
Classroom Aide, Consumer Math Teacher
Education:
B.A. in English and B.A. in Communication Studies, Cum Laude, from Westmont College
Experience:
Substitute teacher prior to CCS
Associated with CCS since 2013
Rene Markey
3rd Grade Homeroom Teacher
Education:
B.A. Liberal Studies with English Supplement, California State University, Sacramento
Experience:
20 years working with children in church ministry
Substitute teacher in San Juan Unified School District & Victory Christian School
At CCS since 2018
Danica Hanna
Classroom aide
Education:
B.A. in Liberal Studies from California State University, Sacramento
Experience:
Employed by CCS since 2003
Ginger Nagy
4th Grade Team Teacher
Education:
B.A. Liberal Studies from California State University, Sacramento
H.R. Certification from CSUS School of Continuing Education
Experience:
Taught at CCS since 2014
Children's Church Leader since 1990
Dawn Peterson
4th & 5th Grade Art Teacher, Assistant Librarian
Education:
B.A. in Liberal Studies from Cal Poly Pomona
Experience:
Taught outside CCS for 13 years
Employed by CCS since 2016
Susie Stavness
5th Grade Homeroom Teacher
Education:
B.A. in Education from CSUS
CA Multiple Subject Teaching Credential
Experience:
Taught for 5 years prior to homeschooling children
Taught homeschool classes for 9 years
Employed by CCS since 2016
Sharon Lowery
5th Grade Team Teacher; Playground Supervisor
Education:
B.A., Whittier College, Political Science Major, History Minor, Cum Laude
Executive Fellowship, Capital Fellows Program, Sacramento State, 1997/98
Experience:
14 years homeschool teacher
Cornerstone family since 2009
Flossie Cusick
6th Grade Homeroom Teacher
Education:
B.S. in Agricultural Economics and Finance from Rutgers University
Experience:
Taught outside CCS for 15 years
Sarah Beaman
Elementary P.E. Teacher, Aide
Experience:
8 years working in behavioral therapy with autistic children
Sunday School teacher
Helping Hands Volunteer at CCS for over 4 years
Martha Bryant
Classroom Aide
Education:
B.A. in Social Work from Murray State University
Experience:
Retired HR Director for the U.S. Attorney's Office
Associated with CCS since 2012
Kate Uttinger
7th Grade Homeroom Teacher, Geometry Teacher
Education:
A.A., Liberal Studies, Sierra College
B.A., English, CSUS, Summa Cum Laude
Experience:
In Christian education since 1995
Staff writer for Leben magazine
Joan Pollard
8th Grade Homeroom Teacher
Education:
B.A., Elementary Education, Western Baptist Bible College
Experience:
14 years teaching experience in Christian education prior to CCS
At CCS since 2011
Maya Clark
Junior High Team Teacher, Ladies P.E. teacher, yping Teacher
Experience:
5th Grade homeroom teacher at CCS 2011-2016
Junior High & High School teacher at CCS 2019-current
Taught homeschool for 12 years
John Kane
Jr. & Sr. High Team Teacher
Education:
B.A., Pastoral Theology, International Baptist College and Seminary
M.A., Theology, in progress
Experience:
30+ years teaching Bible in local churches
22+ years in pastoral ministry
At CCS since 2019
Rachel Wills
High School Teacher, High School Counselor
Education:
B.A. in Political Science and French from Grove City College
M.A. in Government with a Certification in Mid-East Politics from Regent University
Experience:
CCS Alumnus and Valedictorian
Teaching at CCS since 2012
Tim French
High School Teacher, Choir & Praise Band Director
Education:
B.S. in Biology with Chemistry Minor, Bob Jones University
Experience:
Taught outside of Cornerstone for 2 years
At CCS since 2005
Greg Uttinger
High School Teacher, Bible Oversight
Education:
A.A., Physics & Philosophy, Shasta College
B.A., Secondary Education- Physics & Mathematics, Dordt College
Experience:
30+ years of teaching experience in Christian education
At CCS since 1995
Ryan Sisneros
Jr. & Sr. High PE teacher; High School Leadership
Melissa Keller
Jr. & Sr. High School Art Teacher
Education:
BA in Fine Art from College of Charleston, South Carolina
Experience:
10 years in graphic design
Associated with CCS since 2014 as a parent and Helping Hand Volunteer
Homeschooled for 4 years
Kathy Rose
Drama Teacher, On Stage
Education:
SJ Delta College, Music Major
Experience:
Drama Assistant at CCS since 1998
Directed numerous children's choirs
Lifetime of performances: Singing groups, public speaking, community theater, worship teams
Cayla Elliot
BASS, classroom aide
Education:
Valedictorian Diploma from Cornerstone Christian High School
Experience:
Mary Lee Sonke
Librarian, Book It Coordinator
Education:
B.A. in Elementary Education from Covenant College
M.Ed. in Integrated Curriculum and Instruction from Covenant College
Experience:
Associated with Cornerstone since 2011
7 years combined teaching experience in Christian education and homeschooling
Developed curriculum for elementary history and literature
Gail Begin
Music Teacher
Education:
B.A. in Liberal Arts from California Lutheran University
K-8 Multiple Subject Teaching Credential
Experience:
25 year member of Music Teachers Association of California (MTAC)
Private instructor of piano, clarinet, and violin
At CCS since 2016
Education:
B.A. in Business Administration from Fresno Pacific University
Experience:
Four children attending CCS since 2019
Over 15 years of experience working in business offices